1

Twitter Slut is the one and only non-profit porn website

Please Click Below and donate to my delinquent Behavior :D
Adult Content Disclaimer
The Gallery of this website is designed for ADULTS only and may include pictures and materials that some viewers may find offensive. If you are under the age of 18 (or the legal adult age in your jurisdiction), if such material offends you or if it is illegal to view such material in your community please exit the site. The following terms and conditions apply to this site. Use of the site will constitute your agreement to the following terms and conditions:
1.) I am 18 years of age or older
2.) I accept all responsibility for my own actions; and
3.) I agree that I am legally bound to these Terms and Conditions



GGG Das Erste Mal - Mila Schluck Dich Satt!
GGG Das Erste Mal - Mila Schluck Dich Satt!
Release Date: 2018
Studio: GGG
Category: German, GangBang, Anal, GroupSex, Double Penetration, Bukkake
Starring: Mila, Alice Nice
Format: MPEG-4 at 2 848 kb/s, 1.76 GiB for 1 h 28 min
Video: AVC 2 600 kb/s, 1280 x 720, 29.970 FPS
Audio: AAC at 128 kb/s, 2 channels, 48.0 kHz
GGG Das Erste Mal - Mila - Schluck Dich Satt!.mp4
Posted by

twitterslut
April 10, 2018
Lesbian Babysitters 15
Teen babysitters have their hands full with the hottest moms on the block, in the newest volume of Sweethearts popular older/younger series. Babysitter Abella Danger is uncomfortable telling Brandi Love how Brandis husband has been hitting on her. Overworked babysitter Sofi Ryan is caughting on the job by boss Silvia Sage. Babysitter Aubrey Sinclair is caught talking smack about boss Phoenix Marie, and she's in big trouble. Finally, babysitter Jessica Rex is caught playing with boss Cory Chases vibrator.
Release Date: 2018
Studio: Sweetheart Video
Category: Teens, Lesbian, All Sex, Babysitter, Mature, MILF
Starring: Brandi Love, Abella Danger, Aubrey Sinclair, Phoenix Marie, Jessica Rex, Silvia Saige, Cory Chase, Sofi Ryan
Lesbian Babysitters 15 - s1
Format: MPEG-4 at 1 509 kb/s, 258 MiB for 23 min 52 s
Video: AVC 1 311 kb/s, 960 x 544, 23.976 FPS
Audio: AAC at 192 kb/s, 2 channels, 44.1 kHz
Lesbian Babysitters 15 - s2
Format: MPEG-4 at 1 490 kb/s, 240 MiB for 22 min 32 s
Video: AVC 1 292 kb/s, 960 x 544, 23.976 FPS
Audio: AAC at 192 kb/s, 2 channels, 44.1 kHz
Lesbian Babysitters 15 - s3
Format: MPEG-4 at 1 717 kb/s, 309 MiB for 25 min 9 s
Video: AVC 1 519 kb/s, 960 x 544, 23.976 FPS
Audio: AAC at 192 kb/s, 2 channels, 44.1 kHz
Lesbian Babysitters 15 - s4
Format: MPEG-4 at 1 731 kb/s, 390 MiB for 31 min 30 s
Video: AVC 1 533 kb/s, 960 x 544, 23.976 FPS
Audio: AAC at 192 kb/s, 2 channels, 44.1 kHz
Lesbian Babysitters 15 - s5
Format: MPEG-4 at 1 425 kb/s, 101 MiB for 9 min 55 s
Video: AVC 1 227 kb/s, 960 x 544, 23.976 FPS
Audio: AAC at 192 kb/s, 2 channels, 44.1 kHz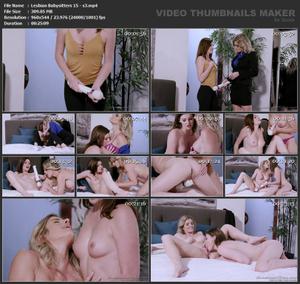 Lesbian Babysitters 15 - s1.rar
Lesbian Babysitters 15 - s2.rar
Lesbian Babysitters 15 - s3.rar
Lesbian Babysitters 15 - s4.rar
Lesbian Babysitters 15 - s5.rar
#bigboobs #bigtits #tits #bustyboobs #busty #lesbian
Posted by

twitterslut
April 05, 2018
18 & Slutty
18 and Slutty
Release Date: 2018
Studio: Reality Kings
Category: Teens, Gonzo
Starring: Haley Reed, Aubrey Sinclair, Vienna Black, Maya Kendrick, Zara Brooks, Alexis Deen
18 Slutty - Alexis Deen
Format: MPEG-4 at 1 085 kb/s, 271 MiB for 34 min 56 s
Video: AVC 952 kb/s, 768 x 432, 23.976 FPS
Audio: AAC at 128 kb/s, 2 channels, 48.0 kHz
18 Slutty - Aubrey Sinclair
Format: MPEG-4 at 965 kb/s, 253 MiB for 36 min 38 s
Video: AVC 833 kb/s, 768 x 432, 23.976 FPS
Audio: AAC at 128 kb/s, 2 channels, 48.0 kHz
18 Slutty - Haley Reed
Format: MPEG-4 at 1 180 kb/s, 291 MiB for 34 min 28 s
Video: AVC 1 049 kb/s, 768 x 432, 23.976 FPS
Audio: AAC at 128 kb/s, 2 channels, 48.0 kHz
18 Slutty - Maya Kendrick
Format: MPEG-4 at 919 kb/s, 260 MiB for 39 min 37 s
Video: AVC 787 kb/s, 768 x 432, 23.976 FPS
Audio: AAC at 128 kb/s, 2 channels, 48.0 kHz
18 Slutty - Vienna Black
Format: MPEG-4 at 1 690 kb/s, 391 MiB for 32 min 22 s
Video: AVC 1 557 kb/s, 768 x 432, 23.976 FPS
Audio: AAC at 128 kb/s, 2 channels, 48.0 kHz
18 Slutty - Zara Brooks
Format: MPEG-4 at 1 815 kb/s, 427 MiB for 32 min 52 s
Video: AVC 1 683 kb/s, 768 x 432, 23.976 FPS
Audio: AAC at 128 kb/s, 2 channels, 48.0 kHz
18 Slutty - Alexis Deen.mp4
18 Slutty - Aubrey Sinclair.mp4
18 Slutty - Haley Reed.mp4
18 Slutty - Maya Kendrick.mp4
18 Slutty - Vienna Black.mp4
18 Slutty - Zara Brooks.mp4
Posted by

twitterslut
April 04, 2018